Welcome to our class Blog. Over the year we will be regualrly updating our Blog to show all of the exciting learning we are doing. Please keep coming back to see what we are learning. We hope you enjoy it!
Some of the caterpillars have emerged! I managed to catch a 'timelapse' video of one. The red liquid is called Meconium and means that the butterflies are healthy.
Miss Beale
The caterpillars have formed chrysalis's. I left them to harden for 2 days and they have now moved into their new home. In 7-14 days they will emerge as butterflies.
Have a lovely half term and keep checking the blog for changes!
Miss Beale
This week we have been lucky enough to have a cricket coach come in and take our PE session. It was so much fun and we are looking forward to next week's lesson. Take a look at the pictures below.
This week we celebrated World Book Day. It was great to see all of the wonderful costumes that came into school and a great day was had by all. We particularly enjoyed the chance to read with children from Mrs Saddler's class.
Thank you for all of the help with the costumes!
25/02/19
What an amazing residential! Some of our year 2s had the opportunity to go to the Eden Project this week. They took part in a range of amazing workshops and even stayed overnight. For some of our children this was their first time away from home and they had an unforgetable experience. Take a look at some of the pictures. What a trip!
We have all been working really hard this week-particularly with our story writing. We have also spent time enjoying a fun filled PE lesson, inlcuding exercising to the song 'Baby Shark!'. We really enjoyed sharing our library time with some of the children from nursery. It was great to share some of their favourite books and do some reading with them. Take a look at the pictures below.
Try the following maths challenge. Get practical with money at home. Can you buy something from the shop? Can you work out how much money you need and what coins you might use?
07.02.19
African Artwork
Take a look at our African sunset pictures. First we painted our backgrounds using warm colours. Then we cut out shapes for our animals. We think they are really amazing! Why not try making them at home.
We have been learning our two times table and using the song below to help us. Please click on the link so you can have a go at home.
It has been a very busy first week back after Christmas and all of the children have risen to the challenge of returning to their learning. It has been AMAZING to see how busy you have all been over the holidays, producing some wonderful homework. Please take time to look at the pictures of the homework below. I think you will agree there has been a lot of effort going into these projects! Well done!
It has been another busy week this week. We have all been working really hard and the whole class has made so much progress with their handwriting! We have also been enjoying creating pieces of artwork linked to 'The Mousehole Cat' and we can't wait to share some of the finished creations.
It is also getting closer to the Christmas performance and we are having so much fun learning our new songs! Our favourite is 'Hey Ewe'.
Try this maths challenge. You can draw pictures to help you solve it. Mrs Hitchens-Todd would love to see your answers. Enjoy!
Sam has some red and blue cubes.
He has 15 red cubes.
He has 8 more blue cubes than red ones.
How many cubes does he have in total?
The Mousehole Cat
We have recently started our new text 'The Mousehole Cat'. We are really enjoying the story and we have talked all about the Mousehole Lights.
Why not go and see the Christmas lights in Mousehole when they are switched on.
The lights are due to be switched on Saturday 15th December at 5:20pm.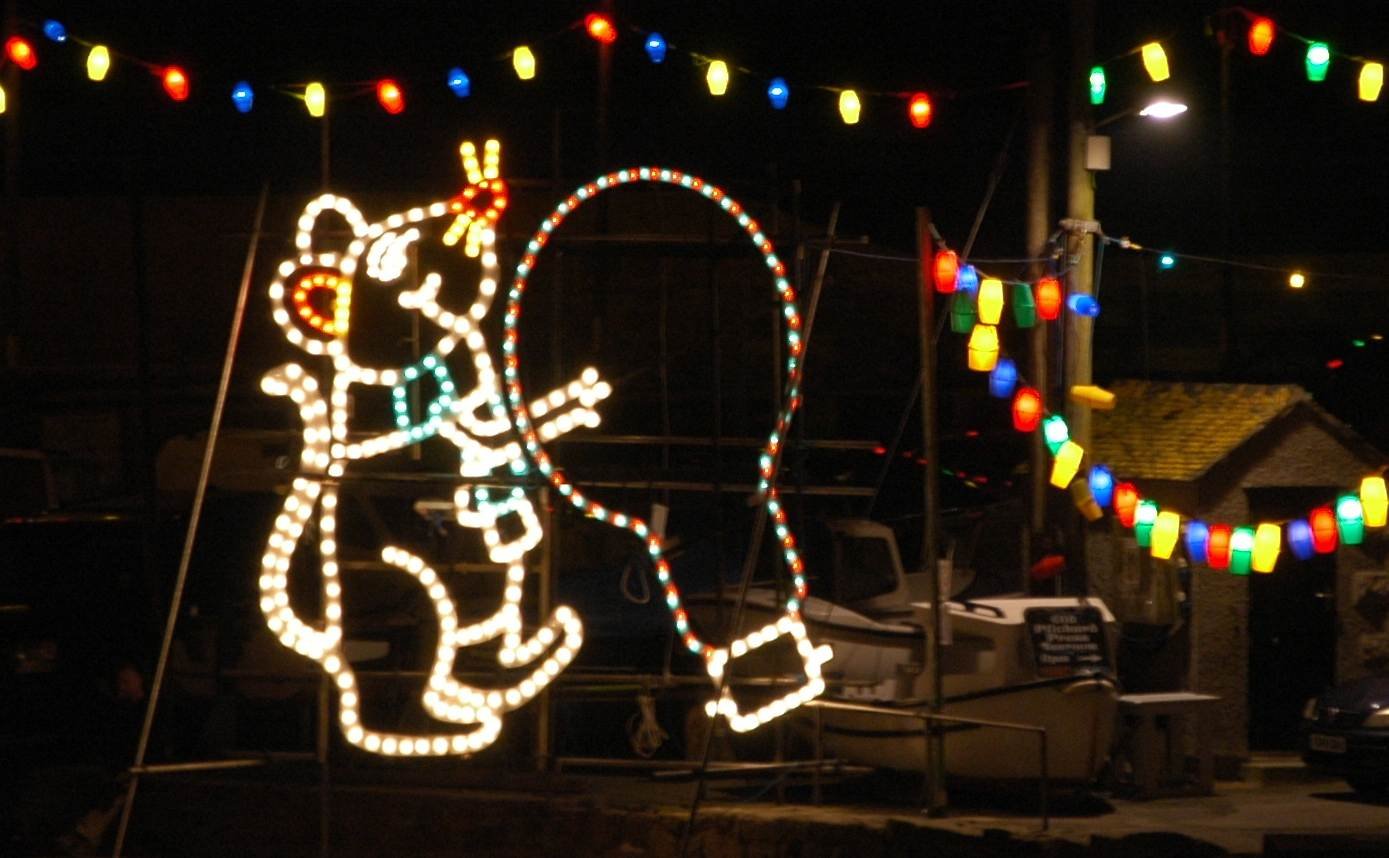 Have a look at our pictures from Trevaskis Farm. We had a great time but we ended up very muddy! We enjoyed looking at all of the plants and animals. We also got to go on a treasure hunt and at the end our prize was a plant!
In maths we have been learning what 2 digit numbers are made up of, using the words tens and ones. How many tens are there in 56? How many ones are there in 92? We have been showing this in different ways- even using money to explain this. Look at our learning below.
In English we have been learning to retell the story of 'The Enormous Turnip'. We are now writing our own versions of the story so remember to check back soon to see our amazing stories. Below are some of our front covers.
Over the summer the children were set the task of completing some homework based around keeping healthy. It was fantastic to be greeted with the wonderful creations and pages of information. Well done to everyone who took part. Take a look at the pictures below!
This week we have been working really hard to understand multiplication using practical resources and visual images. We have really enjoyed doing this and our learning has been amazing!
Why not spend time learning your 2, 5 and 10 times tables at home.
During the afternoons we have been using our observation skills to accurately draw flowers. We have been paying really close attention to the finest detail and trying to replicate this. We have learnt how to sketch and shade. When we have finished our pictures we will put some pictures up on here.